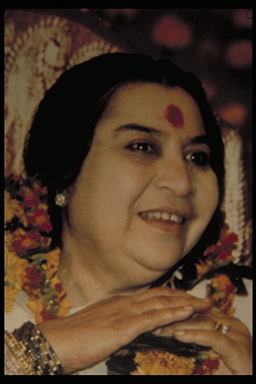 The brain must be used to understand clearly what are the ideals of a Sahaja Yogi, what are the things that a Sahaja Yogi should do, how he should behave in life, what methods he should follow. And then he has to bring it to his heart, through the meditative processes, through surrendering. How I give you second birth you know very well. I conceive you in My Heart, otherwise I cannot do it. Because My Heart is so pure, it cleanses you. By compassion, My Love cleanses you and then I can take you out of My Sahasrara … And when that has happened, you become a new personality.
(Shri Mataji, Diwali Puja, 1983)
Let us establish within ourself, on a subtle level, the desire to be pure and to be cleansed out – all the barriers and unclean things that are within us – to desire to be great Sahaja Yogis, desire to be responsible Sahaja Yogis and desire to be surrendered to your Mother. It's not difficult.
The last one is the easiest because … I don't want anything from you, except that you accept My Love. Surrendering just means you open your heart to accept My Love. Give up this ego – that's all – and it will work out. I'm sure it's going to work out.
(Shri Mataji, Shri Mahakali Puja, 1982)
A certain amount of understanding should be there and you must feel My Love in your heart, that's all. I don't want to make anybody unhappy. Sahaja Yoga has come to make you extremely happy, joyous and peaceful. 
(Shri Mataji, 17 December 1988)

Related Sahaja Yoga posts: