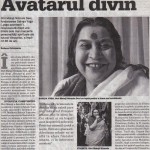 A daily journal in Bucharest, Jurnulu National, published on Easter Sunday an article on Shri Mataji Nirmala Devi, based on the press release of the Romanian Sahaja Yoga Association on the occasion of Shri Mataji's 85th birthday and of the premiere of the movie, Freedom and Liberation, in 22 towns all over Romania.
Cristina, Bucharest
An English translation of the article is provided below:
THE DIVINE AVATAR
Raluca Grintescu
Shri Mataji Nirmala Devi, the founder of Sahaja Yoga ("spontaneous yoga"), recognised as one of the most prominent spiritual personalities of all times, celebrates her 85th anniversary.
In a world seeking for new solutions to the problems facing the humanity, trying to reach to deeper meanings of life, Shri Mataji Nirmala Devi, recognised as the "Messenger of peace" by Ayatollah Rouhani of the Shia Muslim community in Europe and as an "Avatar of the modern era" by Claes Nobel, reveals us a path to the realisation of a more balanced society, in which transformation and peace will first occur within each individual.
EVOLUTION OF CONSCIOUSNESS. Shri Mataji revealed the world the knowledge and practice of Sahaja Yoga ("spontaneous yoga") since 1970. Sahaja Yoga meditation is based on the experience of Self Realisation, triggered in each human being through the awakening of the subtle divine energy called Kundalini. Self Realisation represents the final leap in the evolution of human consciousness, through which we acquire a new dimension, where the absolute truth can be perceived in our central nervous system.   As a result of this development of consciousness, the spiritual evolution takes place effortlessly, the individual regains their own sense of morality, the establishment of physical, mental and emotional balance leading to the integration of their being and personality. 
INCARNATION. For over 35 years Shri Mataji has been travelling tirelessly around the world. Beneath her quality of a Guru (spiritual master), Shri Mataji Nirmala Devi is being recognised by her disciples as an Avatar, an incarnation of Adi Shakti (The Great Goddess, the Creator of the Universe) or, in Christian terms, as an incarnation of the Holy Spirit – which explains, according to Sahaja Yogis, how the founder of this method can grant "Self Realisation". Sahaja Yoga meditation and balancing techniques are also being taught as part of specialised programs, in various institutions, hospitals,  rehabilitation centres, as a treatment against alcohol and drug addiction.
BIOGRAPHY. Nirmala Salve Srivastava (known as Shri Mataji Nirmala Devi) was born in Chindawara (India) on March 21, 1923 to a Christian family. Her parents were direct descendants of the royal Shalivahana dynasty. Her father Prasad Rao Salve, a renowned scholar, master of 14 languages, translated the Koran in Marathi. He was a close associate of Mahatma Gandhi, the first Christian member of the Constituent Assembly of India and helped write free India's first constitution. Her mother, Cornelia Salve, was the first woman in India to receive an Honors Degree in Mathematics.

Related Sahaja Yoga posts: