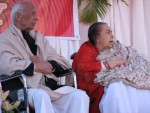 On the 26th January 2008, the whole of India celebrated the 59th Republic Day to commemorate the day on which India gained independence as a nation. This day is also Australia Day which commemorates the founding of Australia.
As early as 7 o'clock in the morning, people started gathering in the front garden at Pratishthan, Shri Mataji's home near Pune. There were children holding Indian flags of all sizes according to their own size, ladies wearing beautiful saris, military officers and policemen, all in a mood of celebration for this official and joyful occasion.
At 9 o'clock, about 1000 people were waiting in a beautiful setting, specially prepared to receive Shri Mataji and Her husband, Sir CP Srivastava.
The program began by the unfurling of the National Flag by Shri Mataji. The National Anthem was sung with great fervour and respect by the Sahaja Yogis present.
The children then danced to patriotic songs. Shri Mataji appreciated and enjoyed the performances very much and was smiling almost throughout the performances.
Russian Sahaja Yogis who were visiting Pune joined their Indian brothers and sisters in celebrating the Indian Republic Day. They offered their respects to Shri Mataji in the form of a bhajan (devotional song). Everyone present on the lawns enjoyed the performances  by the Pune Bhajan group as well as the bhajan by the Russians.
Sir CP addressed the group and congratulated everyone on the occasion of the Republic Day. He recollected the occasion when India had gained its independence and mentioned that Shri Mataji had requested him then to serve his country whole-heartedly. He talked about the importance of Sahaja Yoga and the message of Shri Mataji to the world. He also said, on behalf of Shri Mataji, that She was very happy, Her heart rejoicing, and very pleased.
The picture above shows Shri Mataji and Her husband, Sir CP, enjoying the Republic Day celebrations in Pratisthan.
Originally posted 2008-01-28 04:28:21. Republished by Blog Post Promoter
Related Sahaja Yoga posts: