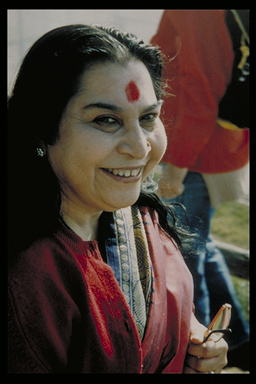 The joy of giving Realisation! It was to be found in abundant supply at the Mind, Body and Spirit Festival at Melbourne Exhibition Centre held over the election weekend in November 2007. Mother's magnetic charm again won the hearts as seekers flocked in their droves to the Sahaja Yoga stall.
The flavour of the Festival was surprisingly mainstream, with many families and ordinary working folk making the pilgrimage. Beset from all sides by charmers, soothsayers and all manner of charlatans, seekers plotted a course through the maze of flashing lights and gimmicks. The Sahaja Yoga stall stood like a beacon emitting waves of Shri Mataji's love to which so many souls were drawn.
At times the Sahaja Yogis could barely keep up, such was the interest created by the fascinating sight of our brothers and sisters raising Kundalini after Kundalini, with many people having to wait their turn for the Divine introduction to our sweet Mother.
There is no doubt the festival was a battleground. War was being waged on a subtle level for the hearts and souls of these seekers whose ranks have swelled tremendously in number. Yes, the negativity was also well-represented. The negativity, however, was no match for the heavenly radiance of Shri Mataji and Her soldiers of God.
Many thanks to all the Sahaja Yogis who gave their time and effort. All will testify to the awesome spiritual recharge received from giving hundreds of people their Realisation, some of whom have attended our subsequent public programmes. The joy bestowed upon every Sahaja Yogi from the beaming smiles and glowing faces of the newly realised was the rich dividend of acting as an instrument of Shri Mataji's love.
Simon Lovegrove
Melbourne
Originally posted 2007-12-17 03:26:19. Republished by Blog Post Promoter